Hi All: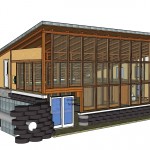 I've had a lot of requests for our 3D model.  The model is very accurate and has been used as a working reference in every stage of the build so far.  The square footage is about 4500.  The greenhouse is about 900 sq ft, and 16,000 ft cubic foot.
If the budget holds, the final construction cost will be between $25 & $30 per square foot – which is the least expensive residential code compliant home built in Colorado in a good many years.
For the uninitiated you can download sketchup here.  It's an excellent free program formerly from google, and now owned by a Boulder company.
Thursday March 20 is a site tour.  We'll be arriving about noon.  If you want to check it out – just follow the directions above.  Here is a series of views exported from the model.